Key Develocity Benefits for CI & Platform Engineers
Whether you are part of the CI team reporting into the application team with responsibility for builds or provide CI as a shared service that is generally not involved with builds, Develocity delivers benefits that help address your key challenges and pain points. They include the ability to: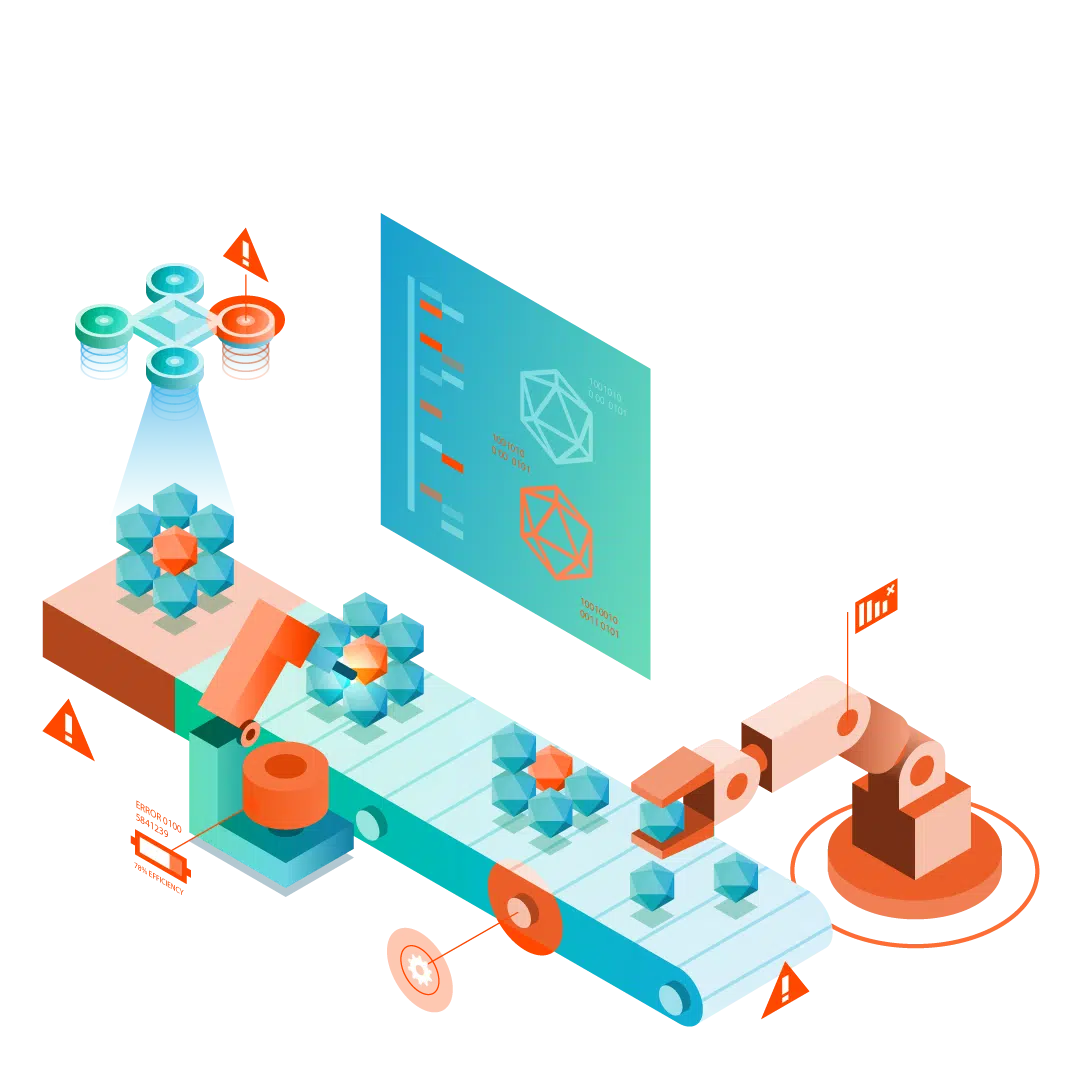 Optimize CI pipeline throughput and build queuing time
Develocity performance acceleration technologies are designed to maximize CI pipeline throughput and minimize job queues given available compute resources. They are CI Build Cache, Predictive Test Selection, Test Distribution, and Performance Continuity. Used collectively, they provide a force multiplier effect to maximize and sustain pipeline throughput and keep your build queues under control.

Empower developers to self-service

The wealth of information in a Build Scan® tells developers exactly what happened during a build. How long did the build spend on each test? Which tests failed? Was a test failure in the test case or in the environment it ran in? Are there any flaky tests? Armed with this data, it's likely your developers can fix problems on their own without turning CI into the developer help desk.
Get performance and test insights for every build

Existing build-time monitoring tools provide only high-level metrics like average build time. Develocity tells engineers exactly what happened during a build, such as time spent on each test, which tests failed or were flaky, and the cause of failure (test case or environment). Using our API you can combine this data with external data sources to discover additional performance and failure insights.

Use a trusted data signal to manage failure resolution
CI and devs now have the data to determine if errors are caused by their CI build environment and infrastructure or developer code, as well as the impact of failures, without reproducing the build data. This minimizes the number of unnecessary builds, freeing up CI system capacity, as dev and CI teams are confident that they are only working on problems they are responsible for solving and in the right priority order.
Observe Performance Trends locally and on CI

Without this insight, your builds can become increasingly slower and error prone as your codebase grows and changes. That degraded performance represents invisible, build-related technical debt. Develocity makes it easy to get local build experience visibility (e.g. Artifactory issues) , so you can proactively help improve build performance before your developers complain.

Operate efficiently within cost constraints

Develocity build and test performance acceleration and continuity solutions enable you to optimize the speed of CI builds given compute resource and cost constraints. For cloud-hosted services based on elastic usage-based pricing, this translates directly and proportionately into lower bills. For internal CI teams, this means growing demand can be handled with existing resources.
Key Develocity Solution Capabilities for CI & Platform Engineers
Develocity has a robust set of capabilities that make your CI system run as efficiently as possible while making troubleshooting build issues as easy as possible.
CI Test Failure Dashboard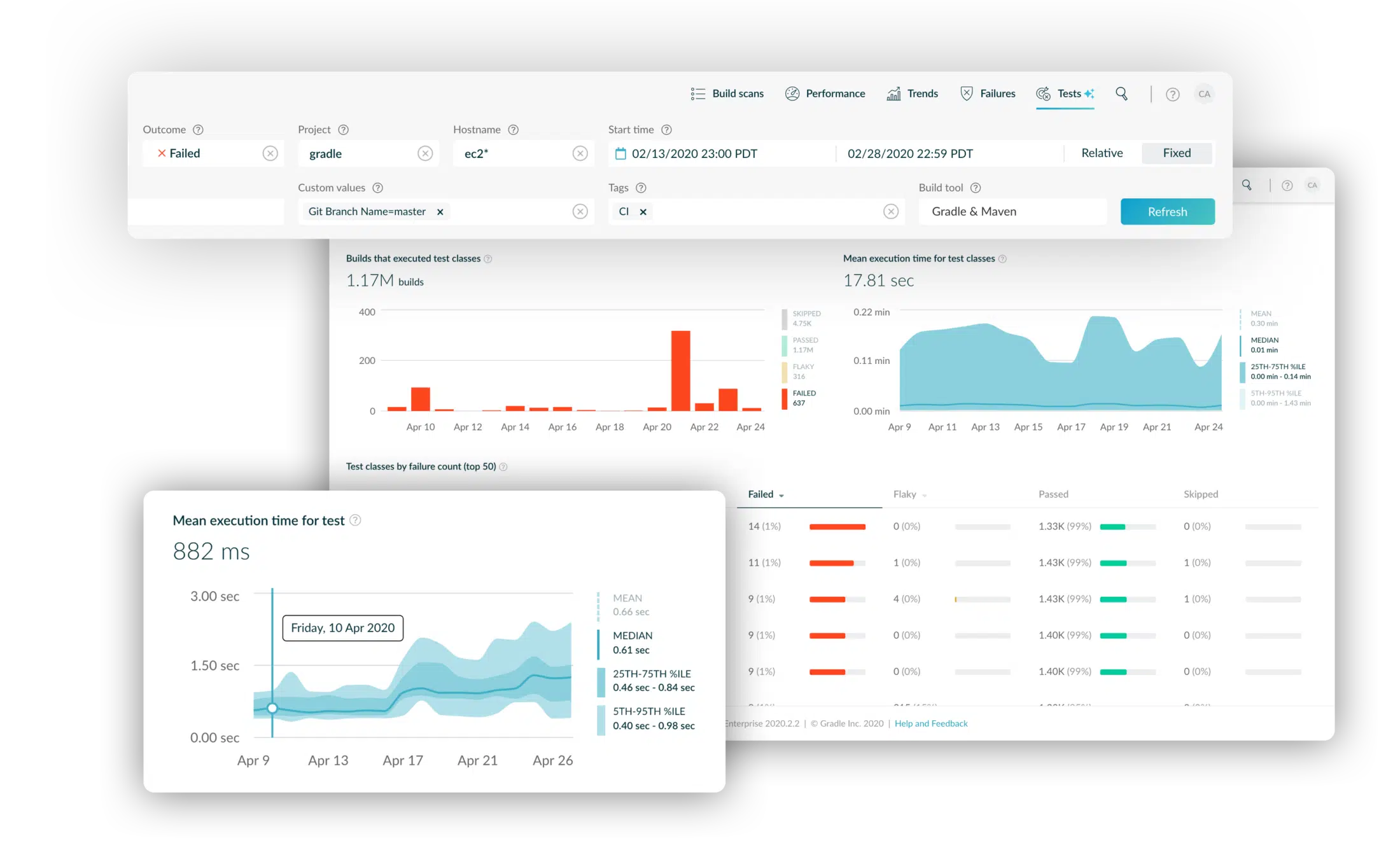 Slice and dice your build performance and test data using dynamic filtering.
CI Build Failure Dashboard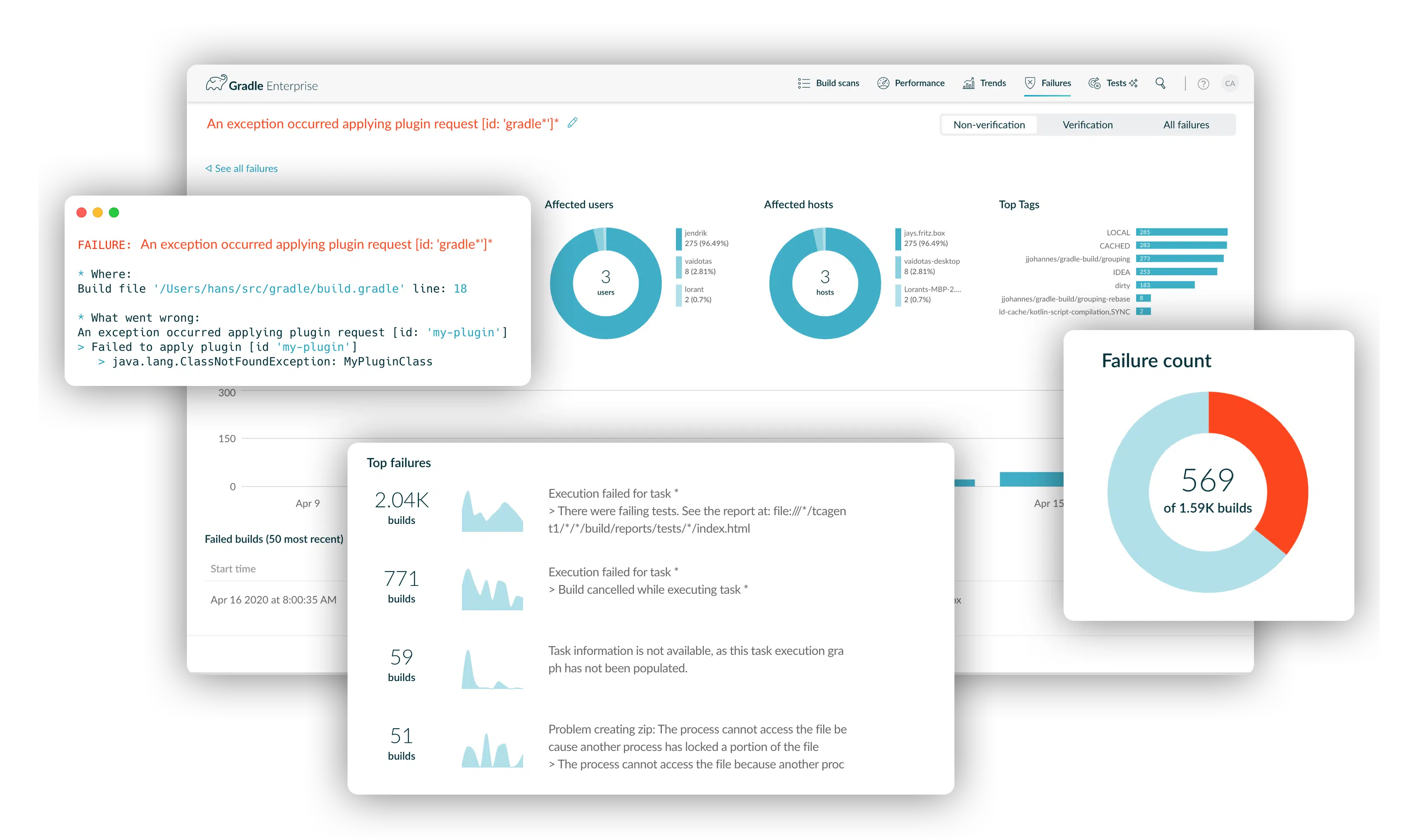 "Am I the only one seeing this failure?" Search Maven and Gradle build failures like StackOverflow or identify common yet disruptive build failures using Develocity's advanced failure analysis features.